Round Seven: Ward being told to "keep him busy" by his corner and he's been doing just that. Froch hasn't found a working tempo and Ward is too fast and elusive for him now. Now it's Ward's right that's the big scoring punch. Froch drifting dangerously into "puncher's chance" territory. The pace drops towards the end of the round but Ward still out threw Froch in that round.Sorry, but Guardian unofficial scorecard Ward 10-9 Froch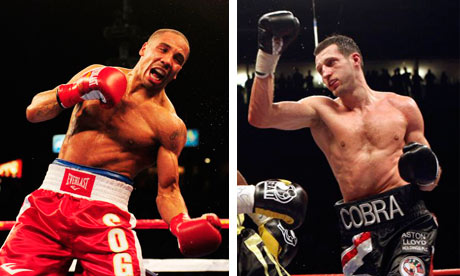 Round Six (of twelve): Froch trying to match the pace of Ward's combinations, but Ward not looking concerned. Two more good left hooks from Ward and the scoring punches keep adding up. A right cross for variety from Ward. Froch matches with one of his own, but in the last minute Ward gets a sweet left through his defence and backs Froch up. Then another. Froch looks surprised at Ward's strength. Guardian unofficial scorecard Ward 10-9 Froch
Round Five: Middle of the fight looming and Froch needs to change the pattern, but Ward is pushing him backwards. Froch may have anticipated bullying Ward, but Ward has hardly taken a backward step. Ward outpunching Froch almost 2-1 and adds some little cheeky showboating to taunt Froch. Constant pressure from Ward and Froch is only scoring in brief counters.Guardian unofficial scorecard Ward 10-9 Froch
Round Four: Great jab and uppercut from Ward and he moves inside, believing Froch can't punch from there. Ward is standing in front of Froch and scoring well. Froch trying to bide his time but now Ward is disrupting his every attempt to find rhythm. Now Ward pins Froch in corner and that head is in there. Froch swinging wide and Ward finishes the round with a clean combination to confirm another round.Guardian unofficial scorecard Ward 10-10 Froch
Round Three: Froch starts with a flurry out of a clinch. He'll want to get into this fight soon. That left hand has dropped again and Froch looks a little short of ideas. Landing a few more this round, but the scoring punches are Ward's. A clinch in the last minute leads to a flurry on the inside from both fighters. Froch well in this, but slipping behind a little.Guardian unofficial scorecard Ward 10-9 Froch
Round Two: Ward looking to get inside early and tie Froch up. Another couple of jabs and a hook from the outside. Froch starting the slower for sure. Froch lands a nice uppercut, but no sign of him bossing Ward early. Fight taking place in the centre of the ring which Froch may not like. Great left hook from Ward in the last 20 seconds takes the round.Guardian unofficial scorecard Ward 10-9 Froch
Round One: Froch goes hunting early, but both are wary at the start. Tentative jabbing from both men. Froch smiles slightly, but his body language is cautious. Ward poking the left out carefully. Froch keeping his left a little higher than usual. One clinch and a wild swing from Froch. Ward landing a couple of cleaner jabs towards the end of the round. Tight, but Ward shades it.Guardian unofficial scorecard Ward 10-9 Froch
Ring announcements: Not HBO, so no Michael Buffer rumbling us into tonight's fight. The judges from England, Canada and US are introduced. Froch will likely be hoping that's the last we hear from them.
The fighters are introduced: Ward is 24-0, 13KOs. Froch is 28-1, 20 KOs.
Steve Smoger gets them to touch gloves, a brief stare out finishes and we're ready.
And now Ward:
Ward walks to the ring now. No fuss. Commentator points out he hasn't lost a fight since he was 12 years old. Neither have I, in fairness.
Here Comes Froch:
"We Will Rock You" rings out as Froch is introduced as being from Nottingham, England - "The home of Robin Hood". He's in the ring now without fuss, strolling around and looking confident.
Last minute predictions:
Kyle Joyce tweets: "@GdnUSsports predicting a Andre Ward win, but won't be a knockout, just not feeling one tonight!"
Nick Layton adds: "@GdnUSsports Froch can only win by ko, won't get a points decision in the states"
Nearly time:
Looks like we're close to the ring entrances now, an important ritual which usually involves a final flurry of whatever tacky nonsense has been the marketing focus for the fight (see Haye, David), or sometimes a kind of surreal whistling in the dark from a fighter who seems to be trying to distract himself from what's about to happen (see Hatton, Ricky v Pacquiao, Manny). Generally, the bigger the circus, the bigger the contrast when the assorted clowns finally leave the ring to the fighters.
These two boxers have generally been very respectful of each other and most attempts to raise the hype temperature around instances of "disrespect", particularly around Ward's "Son of God" tag, have been half-hearted, thank... er, God. Watching the Showtime pre-fight documentaries, there's a telling moment when Froch is getting out of a car with his manager prior to the taping of the "staredown", and in all boredom asks him, "Is this going to get heated, because I'm not in the mood...", which says more about the general tenor of the build-up than any montage set to martial music. We'll see what the entrances bring, but these are two pretty level-headed characters and unlikely to be affected by how the other one wears a cape/towel/Stetson.