Borussia Dortmund were determined to put their disastrous midweek performance behind them and made sure it happened immediately against FC Köln in the Westfalenstadion in Dortmund. didn't resemble the same side that had won three of their last four matches as they sat deep in their own half throughout the match and allowed Dortmund to boss the match.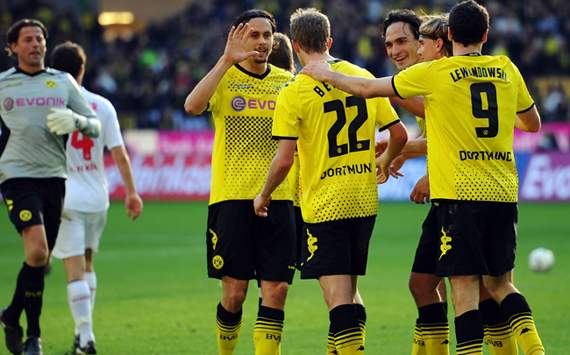 The first goal went into the net in the 7th minute, and they never looked back. Mats Hummels played a ball out of the back over the top, and Kevin Großkreutz ran on to it. He pulled it back through three defenders to Shinji Kagawa, and his shot found the back of the net.
Marcel Schmelzer doubled the lead in the 25th minute with his first career goal in the Bundesliga. The goal was set on a platter by Sven Bender after Mario Götze dribbled into the six yard box from the right flank. Götze's pass was deflected, but Bender battled hard and was able to lay it off to Schmelzer for a beautiful curler from the top of the box.
Minutes before the halftime whistle, Łukasz Piszczek played a spectacular pass into the penalty area. Bender ran onto it and squared it across to Robert Lewandowski. All he had to do is stick his foot out and tap it in the net to make it 3-0. Lewandowski would make it 4-0 just after halftime. The goal is the Polish international's sixth in his last four league matches for Dortmund.
Club captain Sebastian Kehl put the final nail in Köln's coffin with a power header from a lobbed pass by Jakub Błaszczykowski.
The match was never in question. Dortmund goalkeeper Roman Weidenfeller only had to make one save all match long, and that didn't occur until the 86th minute.
The win was Dortmund's fourth in a row and now pulls them alone into second place. They're just three points behind league leaders Bayern Munich who travel to Hannover 96 on Sunday.